Our goal for today is to take a look at the first 10 RB's selected in the 2021 NFL Draft. We're going to go over some traits, stats, situational implications and put together a fantasy outlook for each player. The goal is to give you, the reader, some quick-hitting information to take into your Dynasty Rookie drafts and Fantasy Football leagues for 2021/22.
To get things kicked off, let's begin with an extremely exciting prospect that is coming off a National Championship with Alabama:
Najee Harris – Pittsburgh Steelers
Features
24th Overall pick from Alabama
6-2″ 230lbs
251/1466/26TD rushing in 2020 – All #1 in the SEC
43/425/4TD receiving in 2020
Career 6.0YPC Average
Career 9.8YPR Average
4.45s 40-yard dash
Rarely fumbles – only 2 in his career
Decisive power runner
Excellent between the tackles
Great balance through contact
A+ Stiff arm and Hurdling abilities
Above-average pass catching and route running
Situation
The first RB off the board in the NFL Draft was selected 24th overall by the Pittsburgh Steelers. Harris has drawn some NFL comparisons to Le'Veon Bell and Steven Jackson. He is widely believed to be a fit in the Pittsburgh offense after the departure of James Conner in free agency. Harris lands on a Steelers team that finished 32nd in the NFL in Rushing Yards(1,351), yards per carry(3.6) and 27th in attempts(373). A large part of the poor performance of the running game is attributed to the inconsistent play from James Conner, Benny Snell Jr and Anthony MacFarland Jr. In reality the problem was more systemic and involved an O-Line that was ranked 31st in run blocking.
Pittsburgh will surely improve upon its woeful 2020 Rushing statistics and showed a commitment to developing that aspect of their game by drafting G Kendrick Green (87th overall), OT Dan Moore (128th overall) and TE Pat Freiermuth (55th overall) this season. Freiermuth is drawing NFL comparisons to Rob Gronkowski who is quietly an outstanding run blocker.
Fantasy Impact
As bad as the Steelers rushing attacked was in 2020/21 they have a long tradition of featuring bell-cow running backs over multi-year terms:
James Conner 2017-2020
Le'Veon Bell 2013-2017
Rashard Mendenhall 2008-2012
Willie Parker 2004-2009
Jerome Bettis 1996-2005
Harris' value currently projects him as a mid-range Fantasy RB2 in 2021/22 who has a high ceiling that could vault him into RB1 territory towards the end of his first season. The floor remains uncertain given the lack of success from Pittsburgh running the ball in 2020/21 but I'm recommending you lock on to Harris early and often in Dynasty and keeper formats. We're looking at the RB1 in Dynasty Rookie drafts this season. Over the next few months, his value should predictably rise for re-draft leagues into the early 3rd / late 2nd rounds. That being said, he shouldn't be slipping past the 3rd round of your leagues.
Travis Etienne – Jacksonville Jaguars
Features
25th Overall pick from Clemson
5-10″ 205lbs
168/914/14TD Rushing in 2020
48/588/2TD Receiving in 2020
Career 7.2 YPC Average
Career 11.3 YPR Average
4.40s 40-yard dash time
Speed – look out in open field and at the second level
Major threat when he bounces outside
Bursts through the holes
Can create big plays on his own
Elusive
Great cuts
Good paass catching skills
Good route-running
Situation
Etienne joins Clemson QB Trevor Lawrence in Jacksonville who, despite finishing with the worst record in the NFL, ranked 11th in the NFL with a 4.5 YPC average. The big question on the minds of every Fantasy Football GM is what the dynamic between James Robinson and Travis Etienne will look like in 2021/22. Robinson, the UDFA surprise of 2020/21 signed a 3-yr 2.29M contract with the Jaguars which will see him under contract through 2022. Etienne and Robinson appear likely to share the backfield but presumably occupy very different roles. The likelihood of limited ceilings for both is ominous and should be widely accepted going into 2021/22 barring injury. Though it's too early to tell how early-down usage will play out, the predictable use of each skill set should favour Robinson in the red zone and Etienne to move the chains on 3rd down.
I'm very low on the outlooks for the remainder of the Jacksonville backfield. Given that they have Carlos Hyde, Ryquell Armstead and Devine Ozigbo under contract in 2021/22 it's conceivable that we see some cuts in training camp from this group.
Fantasy Impact
Etienne has been getting drafted as the 2nd rookie RB off the board in dynasty rookie drafts over the past few months. Landing with the Jacksonville Jaguars in a committee backfield his value has taken a hit to the point where he's now being occasionally drafted 3rd behind Javonte Williams. As we look ahead to re-draft season his value is still quite subjective without some defined indications of the usage between the two main Jacksonville RB's. I'm looking for Etienne to be an RB3 with a moderate ceiling, capable of taking him well into the RB2 range. Before labelling a value on Etienne in re-draft formats I would like to see some definition of roles develop as training camp gets underway.
Javonte Williams – Denver Broncos
Features
35th Overall pick from North Carolina
5-10″ 220lbs
157/1,140/19TD Rushing in 2020
25/305/3TD Receiving in 2020
Played in a committee with NY Jets 2021 4th round pick Michael Carter
Career 6.3YPC career average
Career 10.8 YPR career average
4.55s 40-yard dash time
Led the ACC in rushing TD's and TD's from scrimmage in 2020
Physical runner
Runs well between the tackles
Creates yards after initial contact
Short yardage and goal line success
Very capable route runner and receiving abilities
Needs natural development in pass protection
Situation
Williams didn't just fall to the Broncos in the 2nd round of this year's draft. First-year GM George Paton traded up to the Falcons spot at 35th overall to select him. That shows an extreme level of commitment from an organization towards a running back. In 2020/21 Denver ranked 13th in the NFL with 1,918 rushing yards and T-14th with a 4.3 YPC average. (LT) Garett Bolles took a big step forward in 2020 and both (C) Lloyd Cushenberry and (G) Dalton Risner should see improvement with another year under their belts.
Williams comes into a running back room that includes 28 y/o Melvin Gordon, Royce Freeman and newly acquired Mike Boone from Minnesota. Given the draft capital invested, it projects that the torch will be handed from Melvin Gordon to Williams before he becomes a UFA in 2022. The 8.9M cap hit will be difficult for the Broncos to move even if Williams shows that he is capable of handling the full load as a 3-down back in Denver. Look for his value to take off in 2022.
Fantasy Impact
The draft positions for Williams and Etienne in Dynasty Rookie drafts are closing in on each other. Some amount of preference is in play for managers in choosing between these two players. Similar to Etienne, Williams currently projects as an RB3 with the ceiling to rise into the RB2 category. Again, we should see some distinctions develop in training camp between MG3 and Williams along with some expected usage and roles. Treat Williams as a higher upside pick in keeper formats than in re-draft formats.
Trey Sermon – San Francisco 49ers
Features
88th overall pick from Ohio State
6-0 215lbs
116/870/4TD Rushing in 2020
12/95/0TD Receiving in 2020
6.5YPC career average
10.1YPR career average
4.57s 40-yard dash time
Set a single game rushing record at Ohio State with 331 yards
Strong and physical runner
Runs through tackles
Falls forwards for extra yards
Will not pull away from defenders
Needs natural development in pass protection
Situation
San Francisco 49ers GM John Lynch traded up to the 88th spot to draft Trey Sermon indicating that he was a coveted asset for the organization. Sermon joins a committee of backs that already included 29 y/o Raheem Mostert, 25y/o Jeff Wilson Jr and 26 y/o Wayne Gallman . The 49ers parted ways with Tevin Coleman who is now with the NY Jets and Jerrick McKinnon who signed earlier this week with the KC Chiefs. Both Mostert and Wilson Jr are set to become UFA's in 2022 so the long-term prospects for Trey Sermon are real.
A Kyle Shanahan offense is a pretty unique system which uses lateral movement to open up holes for speed runners to blast through. Whether it be a former RB like Matt Breida or a current WR like Deebo Samuel, Shanahan has a wrinkle to create opportunity for a variety of runners. Sermon is a different type of back than Shanahan typically prefers given his larger build and >4.40s 40 yard dash time. The plausible fit for Sermon is in short yardage and red-zone packages.
Fantasy Impact
Sermon currently sits between rookie RB4-RB6 in dynasty rookie drafts which puts him in the early to middle of the 2nd round. The long-term outlook of Sermon outweighs his likely contributions for 2021 so proceed with caution into 2021 redraft formats. Sermon should appear much further down the draft boards from the top tier of RB's and can be safely assumed to be in the RB3 or less range until proven otherwise.
Michael Carter – New York Jets
Features
107th overall pick from North Carolina
5-8 201lbs
156/1,245/9TD Rushing in 2020
25/267/2TD Receiving in 2020
6.6 YPC career average
8.0 YPR career average
4.50s 40-yard dash time
Led the ACC in Rushing Yards in 2020
Played in a committee with Denver Broncos 2nd round pick Javonte Williams
Great change of direction
Dangerous when stretching the field
No fumbles in 2019-2020
Situation
The Jets have a difficult depth chart to assess for 2021. They brought in veteran Tevin Coleman out of SF on a 1-yr 2.0M deal to join Ty Johnson and La'Mical Perine before drafting Michael Carter. New Jets HC Robert Saleh has familiarity with Coleman from their time together in San Francisco and will likely give Coleman the early-down work to begin the season. Carter comes in alongside rookie QB Zach Wilson similar to the situation in Jacksonville. Adding to the selection of LT Mekhi Becton in 2020 the Jets traded up to select versatile OL Alijah Vera-Tucker in 2021. The continued development of the Jets offense could lead to some surprises in 2021 and 2022.
Fantasy Impact
Rookie Dynasty drafts are currently looking at Michael Carter in the RB4-5 range following his relatively favourable landing spot. This puts him in the early-mid 2nd round pick range very close to Trey Sermon. Carter has the potential to add some late season upside once the Jets offense has time to gel. In redraft formats, he is a gamble pick who has boom-bust written all over him. I recommend caution here while looking at a wide range of outcomes landing between an RB3-RB5.
Kene Nwangwu – Minnesota Vikings
Features
119th overall pick from Iowa State
6-1 210lbs
61/339/4TD Rushing in 2020
3/22/0TD Receiving in 2020
5.2 YPC career average
8.1 YPR career average
4.32s 40-yd dash time
Primarily used as a kick returner
Excellent top end speed
Limited usage as an RB in college with only 150 career touches
Situation
Nwangwu joins the Vikings offense and slides in behind both Dalvin Cook and Alexander Mattison on the RB depth chart following the departure of Mike Boone in the off-season to Denver. A simple expectation for Nwangwu would be to start by returning kicks and taking 2nd team reps in practice. With Alexander Mattison under contract through 2022, it's difficult to think that Nwangwu will vault ahead on the depth chart during those two seasons out of the Vikings backfield.
Fantasy Impact
Nwangwu is an interesting deep pick in rookie drafts that I don't expect to contribute as an RB in 2021 barring injury to Dalvin Cook or Alexander Mattison. For the time being, I expect him to remain undrafted in re-draft formats and to be likely overlooked for his initial season when theoretically used as a kick returner. I'm going to remain optimistic about his future in the NFL given the speed he runs with but it will take some development before we can consider him for an impact in most fantasy formats.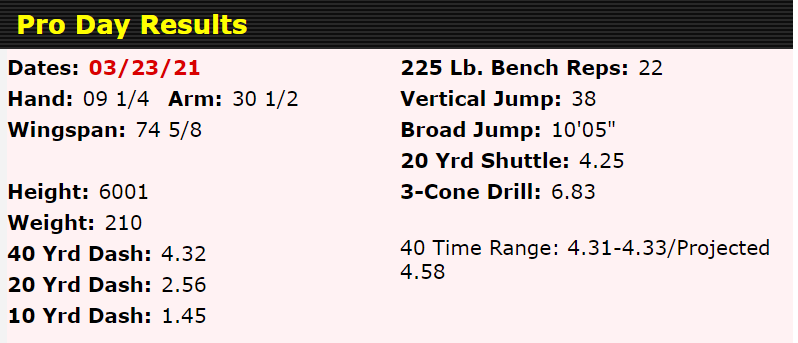 Rhamondre Stevenson – New England Patriots
Features
120th pick overall out of Oklahoma
6-0 231lbs
101/665/7TD rushing in 2020
18/211/11.7 receiving in 2020
7.2YPC career average
10.6 YPR career average
4.63s 40-yard dash time
Power runner
Looks for contact and drives through tackles
Strong Lower body that can move the pile
Lower top end speed
Undeveloped route running
Situation
If you're not thinking, and hoping, for usage similar to LeGarrette Blount then it's time to change your tune. Stevenson is the powerful type of Running Back that Belichick likes to utilize both in short-yardage situations and to create a size mismatch. Stevenson joins a depth chart that includes Damien Harris, Sony Michel and James White. It's very difficult to estimate usage from New England RB's so let's not get too carried away here, but this is a player who figures to have upside in short-yardage and red zone opportunities once he learns the New England system.
Fantasy Impact
For Dynasty formats Stevenson is being drafted around the RB8 spot with a 12 team ADP that puts him in the middle of the 3rd round for 1-QB leagues. With TD upside from day 1, Stevenson is someone to keep in the back of your mind as an early-season add for redraft formats where his ADP likely sits below draft range.
Chuba Hubbard – Carolina Panthers
Features
126th overall pick out of Oklahoma State
6-0 210lbs
133/625/5TD rushing in 2020
8/52/1TD receiving in 2020
5.9 YPC career average
6.5 YPR career average
4.50 40-yd dash time
Led the NCAA in 2019 with 2094 rushing yards and 21 TD's
2019 BIG 12 OPOY
Similar skill set to Mike Davis but faster
Situation
Playing behind CMC is one of the most difficult spots to find yourself as an RB but it will provide Hubbard with the insulation to develop at the NFL level and get reps against tired defences. Matt Rhule is very familiar with Hubbard from his time at Baylor and the selection for the Panthers likely comes with some added value as a team that is designed to run the ball for success.
Fantasy Impact
Hubbard's draft stock took a bit of a tumble after being drafted by Carolina and slotting in behind CMC on the depth chart. With realistic expectations in mind here I don't expect a significant output from Hubbard in 2021 barring injury to CMC. Look to Hubbard as a nice handcuff for CMC owners. He is currently being drafted in the 3rd round of rookie drafts.
Kenny Gainwell – Philadelphia Eagles
Features
150th overall pick out of Memphis
5-11 191lbs
Sat out the 2020 season
231/1459/13TD Rushing in 2019
51/610/3TD Receiving in 2019
6.6 YPC career average
11.6 YPR career average
4.42 40-yd dash time
Balanced skillset between rushing and receiving
Good speed and acceleration
Good vision and anticipation
Creates big plays on his own
Situation
Gainwell's spot in the pecking order for Philadelphia is somewhat uncertain with Miles Sanders, Boston Scott and newly signed Kerryon Johnson also in the mix but he comes to the table with a lot of upsides. For a player with his balanced skillset it's easy to think that he could have an impact inside of his first year with Philadelphia and if he pops then could earn regular work both rushing the ball and in the passing game. Philadelphia was unhappy with the performance from Miles Sanders in 2020 and will likely be open to a split backfield in 2021.
Fantasy Impact
I want to start by saying that I'm Leary on the upside of the entire Eagles backfield in Fantasy. Gainwell is currently being drafted as the 6th RB off the board in rookie drafts. The ceiling is that Gainwell becomes the top RB in Philadelphia while the floor is that he rotates in occasionally as a 3rd down option. I like the value of Gainwell in redraft/keeper formats likely going in the final rounds of PPR formats. Keep an eye out between now and the start of the NFL season, I expect Gainwell to pick up some steam in ADP.
Eli Mitchell – San Francisco 49ers
Features
194th overall pick out of Louisiana-Lafayette
5-10 201lbs
141/878/8TD Rushing in 2020
16/153/0TD Receiving in 2020
6.2YPC career average
12.2 YPR career average
Balanced skillset between rushing and receiving
Faced lower tier competition in the Sun Belt Conference
Fights through tackles
4.38 40-yard dash time
Dangerous when bouncing to the outside
Situation
When the San Francisco 49ers draft a running back in the late rounds of the draft you've need to pay a little bit more attention than most other teams around the NFL. This is especially true when factoring in that this is the 2nd running back taken by the 49ers in this year's draft. Now let's temper those expectations out of the gate and understand that San Francisco now has Raheem Mostert, Jeff Wilson Jr, Trey Sermon, Wayne Gallman, JaMycal Hasty and Eli Mitchell fighting for playing time in 2020. I can only imagine the running back meetings going forward.
Fantasy Impact
Mitchell's value is highest in dynasty formats given the players ahead of him on the depth chart in San Fran. I'd recommend tagging him for the later rounds of your rookie drafts and placing him on your taxi squad for 2021/22. He will surely go undrafted in all re-draft formats and only be added if injuries pile on the way that they did in 2020 for San Francisco, see JaMycal Hasty for a situational comparison.
For those of you looking to brush up on the WR class of 2021 with an expert rankings check out the latest from Justin Rosser here.
Thanks for checking in with us today and I hope that you've enjoyed some of the content we've rifled through. Our goal, as always, is to keep you one step ahead by "Sniping the competition" . For more NFL, NHL, MLB and DFS check in with us at www.fantasymarksmen.com
David Carey – May 10th, 2021
Follow me on Twitter @87_Carey and @fantasymarksmen