David Carey – April 4th, 2021
The finish line for Fantasy Hockey is in sight. Many of your league mates have already packed it in and you're sitting in the driver seat pushing towards the Championship rounds. If you've been with us over the past few weeks you've been able to load your lineup with top trending players like Juuse Saros, Joonas Donskoi and Jack Campbell in advance of the masses. The idea we keep in mind is that we are "Sniping the Competition". Let's finish the season strong and gather up some championships!
Team Trends
The Avalanche have tied Tampa bay with 54pts which ranks best in the NHL. Between the two teams it appears that a potential Stanley Cup showdown could be possible. I really like the outlook of these teams given they feature the NHL's top 2 Goaltenders. Nashville has quietly crept into the mix as one of the NHL's hottest clubs, look for them to make some noise leading up to the NHL playoffs once they get their star forward Filip Forsberg back from injury.
On the cold side of league not much has changed since week 11. Despite winning their last 2 GP Buffalo still ranks as the worst team in the NHL and the worst in their last 10GP. Philadelphia is hot on their heals of late but are still over .500 at 17-14-5. Look for teams like Columbus and Calgary to continue to fall between now and the end of 2021. Many of their top offensive options are not producing leading to a belief that they will likely trend downward as the season wraps up.
COVID-19 News + Notes
The Montreal Canadiens and their players were impacted by COVID-19 as the first NHL team in the North Division to see a game postponed. In total they had 4 games PPD. Vancouver had two players and one coach test positive during week 11 which caused for their next 3 games to be PPD. In addition to the 2 players 6 more players were identified as having tested April 1st followed by an additional 6 more players on Saturday April 3rd.
Boston Bruins – Jake DeBrusk
Chicago Blackhawks – Brandon Hagel
Minnesota Wild– Zach Parise
Montreal Canadiens – Joel Armia, Eric Staal
Vancouver Canucks – see below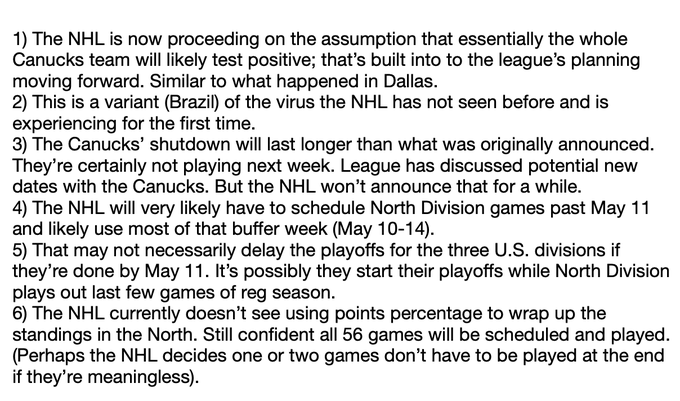 Now as we look forward to the remainder of the NHL season and the amount of games to be re-scheduled from postponements its is beginning to be concerning as to whether or not the NHL will be able to fit all these games in before May 11th. For an extreme case like Vancouver it's now unlikely that they will be able to restart their season for two weeks as they are now in the midst of an outbreak in their locker room. Again the game of hockey will take a back seat to the impact of the deadly virus which
Games per day
Assuming that in Week 12 we don't see any of the games between Vancouver and their opponents played the NHL schedule will look something like this
Monday – 6
Tuesday – 9
Wednesday – 5
Thursday – 9
Friday – 8
Saturday – 9
Sunday – 8
Teams playing 4+ games this week
We've got a glowing number 5 next to the Boston Bruins and Philadelphia Flyers during week 12 they stand together as the only NHL teams to plat 5x on the week. Philadelphia comes with plenty of risk this week but will serve as a spot where Fantasy managers can gather 3GP in 4 days. A prudent GM has already dropped some of their Vancouver Canucks and pivoted onto widely available players from both teams.
Boston Bruins (5)
Philadelphia Flyers (5)
Arizona Coyotes
Buffalo Sabres
Colorado Avalanche
Dallas Stars
LA Kings
Minnesota Wild
Montreal Canadiens
Nashville Predators
New Jersey Devils
NY Islanders
NY Rangers
Pittsburgh Penguins
St Louis Blues
Vegas Golden Knights
Washington Capitals
Teams playing 2- games this week
As the schedule currently stands Calgary plays 3x on the week and Vancouver 2x with 2 matchups between these teams on Thu/Sat. I believe that the these games will be postponed as a result of the outbreak in Vancouver with long lasting effects similar to those which we saw come out of New Jersey earlier this season.
Calgary Flames
Vancouver Canucks
At this point I'm going to point on that only 2 weeks remain in standard formats before the start of Fantasy Playoffs in week 14. Fantasy Managers currently holding Canucks players are holding the proverbial bag. If you're in "must win" mode to make your Fantasy Playoffs then its worth considering the most effective way to get these players off your roster ASAP.
Players to Add this week
Joonas Donskoi (LW,RW) COL – 56% Owned
4 GP on the week
8G, 6A in his last 10GP
+14 on the season and now seeing upwards of 17 min per game
23.6% shooting percentage on the season to go along with a 55.8 CF%
Currently centering the PP1 unit for the Avalanche which is currently scoring 24.6% of the time
Craig Smith (RW) / Nick Ritchie (LW) BOS – 6% Owned / 15% Owned
Both players are widely available and have 5GP on the week
Craig Smith has been getting playing time along side Marchand + Bergeron on BOS L1
Nick Ritchie has been playing L2 and PP1 with up to 19:18 TOI over the past week
Both have an easy opt out after the first two GP on the week Mon/Tue should you lose faith, at worst they front load your schedule
Reilly Smith (RW) VGK – 28% Owned
4GP this week
Now playing on the 2nd line for VGK and PP1
Contributes in SHP should that be a category in your league format
Noel Acciari (C,RW) FLA – 16% Owned
Here is a great streaming option to have in your back pocket who is seeing >20:00 TOI per game
Contributing in accessory categories like Hits and Blocked Shots at a pace expected of a Defensemen – 10H/11BLK in the past week
Centers the 3rd line and plays with Vatrano and Tippett
1G/2A in his last week of play
Players to Drop this week
Alex Edler (D) VAN – 21% Owned
Placed into the NHL Covid protocol on Thursday
Canucks games currently postponed through April 6th and likely for a full two week period
Vancouver likely see's their games on the year shortened due to the condensed time frame which remains following the 8 players currently in COVID protocols.
Consider dropping multiple Canucks players should they see an extended postponement including cancelled games
Sean Monahan (C) CGY – 62% Owned
3A in his last 10GP where CGY is 3-7-0 in the same stretch
Does not contribute in accessory categories like Hits/Blocks
Calgary likely only plays 1 game next week with 2 games vs VAN which are widely expected to be postponed
Stats Central
Lately we've look at the league leaders in hits and blocked shots. These accessory categories are great to support league formats that include them however, in nature, they are very specific. A widely understood and applicable statistic which directly has an impact in all formats is power play percentage (PP%). The teams ranking highest in this category have a PP1 group who typically correlate with an elite level of offensive production. The Hurricanes group takes top spot on this list with a PP1 group that consists of 3C (Staal, Trochek, Aho) ,1W (Svechnikov) and 1D (Hamilton). If your looking to separate yourself from the pack the NHL Playoffs these PP1 groups are an established and well supported place to search for Free Agents and trade deadline acquisitions.
Lopsided Matchups
Edmonton Oilers @ Ottawa Senators: Edmonton is 7-0 on the season against Ottawa including wins of 7-1, 6-2, 8-5. Look to the Oilers as they play Ottawa twice this week to pile on the points and boost your fantasy team's outlook. Some enticing options like Josh Archibald can boost your teams outlook by adding a heavy hit total in addition to some offensive ability.
Tampa Bay Lightning @ Columbus Blue Jackets: These two teams met twice during week 11 and split the week. I'm going to consider this a win for Columbus as they are completely outmatched by the Lightning. Star forward Patrik Laine has been quiet as a mouse offensively for Columbus and their team has failed to score more than 3 goals in their last GP and are 3-7-0 in their last 10GP.
Fantasy Tip of the week
Know you league's playoff format and begin looking at your schedules for those weeks!
Week 14 Schedule Week 15 Schedule Week 16 Schedule
In a standard H2H format, week's 14,15 and 16 will be the playoff rounds. Have a look at the links above to see the games per week listed from www.dailyfaceoff.com and see how your fantasy roster will stack up over the course of those weeks. If you're expecting to be playing during the first round playoffs its helpful to be aware that both EDM and VGK only play 2x that week. And although its likely that some postponed games from mid season will find themselves fit in to those gaps you wouldn't want to be going blindly into that round of the playoffs having 4+ players on your roster from those respective teams.
A big shout out to our friends and followers around the world who have shown us support and recognized some of the content we are working to put out to the public. We've really enjoyed hearing the your feedback and hearing about your success this year. Be sure to send us some photos with your trophies on Twitter @fantasymarksmen or by email fantasymarksmen@gmail.com!
David Carey – April 4th, 2021
Follow me on Twitter @87_Carey and @fantasymarksmen